Marymount Manhattan College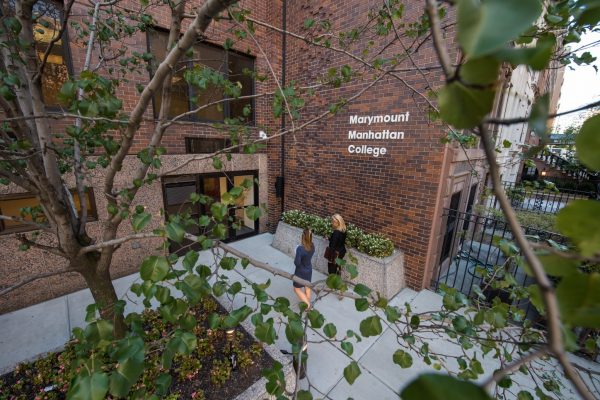 Location: Upper East Side, Manhattan, NY
Facts and Stats
At Marymount Manhattan College, students use New York City as their campus and receive a personalized, arts-focused education. A small student population generates a supportive, active community within the big city, as well as an interactive array of resources and career development opportunities.
2,000 undergraduate students
Urban campus located on the Upper East side; 2 residence halls in Midtown and the East Village
Liberal arts college
Student Life
65% of undergraduate students commute
50+ student clubs and organizations
Residence halls are a short walk or subway ride from the campus
Academics
11:1 student to faculty ratio with majority of classes less than 20 students
City Edge college-to-career preparation program that includes a first year seminar, CareerLab platform access, mentorship, internship opportunities, portfolio building, specialized courses, and career services
General core requirements specialized to students' majors and divided between Foundation Courses, Disciplinary Studies, and Advanced Interdisciplinary Perspectives
Most popular programs: theater, dance, and communications
Resources
Disability services

3 different assistive technology software/hardware options for note-taking

Academic Access: a cost above tuition program for students with learning disabilities offering advanced support in the form of weekly meetings with a learning specialist, academic coaching and counseling, priority registration, monthly parent meetings, etc.
Center for Academic Support and Tutoring

Admissions
Application: Common App
SAT/ACT: Normally required but optional during COVID-19
Selectivity: 78% acceptance rate
Marymount Manhattan College Q & A
An interview with Lindsay Green, Assistant Director of Disability Services and Academic Access
What is the student population like at Marymount Manhattan?
The big thing that everyone likes to say is that we're one big family within this giant city. Because of small class sizes and a small student to faculty ratio, students really get to be heard and seen, and they get opportunities that they wouldn't get at larger schools.
What is unique about Marymount Manhattan?
The one big premiere program that is unique to Marymount is the City EDGE program which is a college to career ready program. It starts the day you walk into Marymount and it continues to the start of your career. It helps you navigate life in college, build your resume and cover letter, and figure out the career world.
It also offers internships and networking programs within that. Our goal is for students to not have internships where you're getting coffees and you're taking notes; we want students to be actual team members where they're figuring out what doesn't work, making mistakes, and finding successes.
By graduation, you have this robust network behind you to set you up for success when you reach the career world. The idea of preparing students for life after college is definitely something that is an important part of Marymount's mission.
What should a student with a visual impairment know about the college?
I've set up the disability services program to have a really strong backbone so that if you need to find any information you can find it on our website, in our portal, or in our handbook – I have everything laid out. You really can do this on your own, but that's not how everyone works. I try to make it as personalized as possible and really work with the student to work to get what they need in order to succeed.
What should incoming students know about Marymount Manhattan College?
Marymount Manhattan prides itself on the fact that we're a community of creative change-makers who are dedicated to our passions and want to see each other succeed. To be a successful Marymount student, you should be a part of that humanity and support system that we all have for each other.
To Learn More:
221 East 71st Street
New York, NY 10021
Contacts
Lindsay Green
Coordinator, Disability Services
212-774-0719
Additional Contact
Christina Bennett
Director, Financial Aid
212-517-0556
Terry Padmore
Director of Student Accounts
(212) 517-0551