The Lavelle – Brother Kearney Scholarship Program
The goal of the Lavelle – Brother Kearney Scholarship Program is to provide academic scholarships and career preparation for legally blind individuals to enter and advance in the profession of their choice. We offer competitive undergraduate and graduate scholarships to students attending one of twelve colleges and universities in the Tri-State New York area (see below). Applicants who are legally blind, legal U.S. residents, are accepted to one of these twelve schools, and meet financial eligibility criteria (as determined by the FAFSA form) are eligible to apply.
To be eligible for consideration for The Lavelle – Brother Kearney Scholarship Program, a student must be:
A legal resident of the United States.
Legally blind – or so severely visually impaired that a Lavelle-sponsored vision assessment expert confirms that the student would need special support services to succeed in college. Examples of such supports include: adaptive technology, books in alternate formats, help from volunteer readers, and/or orientation and mobility training. Otherwise-qualified students who are visually impaired but not "legally blind" should contact the Lavelle Fund's office.
Financially eligible, as defined by the student's Expected Family Contribution (EFC) determined by the FAFSA Financial Aid form.
Studying at one of 12 participating colleges and universities in the Tri-State New York area.
These institutions are:
Students must be in good standing (not suspended or on probation). Lavelle – Brother Kearney Scholarships are awarded and renewed at the discretion of the Lavelle Fund. Scholarships are generally awarded for the duration of the academic program but may fail to renew due to lack of academic progress, non-academic/conduct violations, or change in the student's financial status. The Lavelle Fund reserves the right to modify or terminate scholarships at any time for any reason in its sole discretion, with or without notice.
Lavelle – Brother Kearney Scholars receive additional support, including:
virtual Scholars' Meet and Greets to support informal networking.
being mentored in Freshman year by a successful college graduate who is blind or visually impaired through Learning Ally's College Success Program.
job readiness services, career related internships, and assistance with seeking post-college jobs. Services provided by VISIONS Services for the Blind and Visually Impaired in New York City.
Students must be accepted into a Lavelle – Brother Kearney Scholarship college or university, complete the federal FAFSA form in addition to their college's own financial aid application form, and seek sponsorship from their state's Vocational Rehabilitation agency. Applicants should then contact Kate Morris, Scholarship Program Coordinator and complete The Lavelle – Brother Kearney Scholarship Program's mandatory Waiver/Release of Information Form authorizing the release of student assessment, education, and employment data to the Lavelle Fund for the Blind.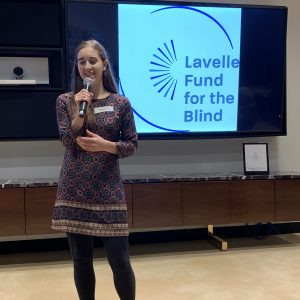 Scholarship recipients are determined through a comprehensive, in-depth vetting and interview process. Successful candidates will demonstrate academic consistency and strong technology, mobility, and interpersonal skills (e.g., are able to self-advocate and work well with peers and professionals). Recipients will be expected to progress academically, be actively engaged in career preparation activities including training, networking and internship opportunities, regularly participate in Scholar meetings, and demonstrate the highest degree of professionalism, both in-person and online.
A Waiver/Release of Information Form is required to enable Scholarship Program staff to obtain the following information at any point during the application process, the Scholar's program of study and post-graduate subsequent transition into employment:
education data, such as grades, transcripts, and enrollment status from high school and all colleges attended
financial aid data in determination of Scholarship amount
assessment information from professionals who have interacted with the applicant including (but not limited to) Vocational Rehabilitation Counselors, teachers, Disability Services representatives, technology instructors, and orientation and mobility instructors
employment data, including details on internships held during undergraduate/graduate studies and jobs obtained up to 5 years after program completion.
Satisfactory academic progress toward a degree is required for Scholarship renewal. In addition, each recipient is expected to provide feedback to The Lavelle Fund for the Blind regarding his or her progress as requested, as well as proactively report any problems or areas that require additional support. Accepted applicants must agree to the terms set forth in the Lavelle – Brother Kearney Scholarship Agreement. The Lavelle Fund for the Blind reserves the right to adjust or revoke a scholarship award should student information change or the student fail to provide required information.
Determining the Lavelle - Brother Kearney Scholarship Amount
Scholarships are awarded on a last-dollar-of-need basis.  To be eligible for Lavelle – Brother Kearney Scholarship support, students must first seek all additional support for which they may qualify. Since legally blind students who are registered with their home state Commission for the Blind usually qualify for some commission aid, the Fund does not honor scholarship vouchers that fail to indicate either: (1) how much the student's home state commission has awarded the student or (2) the reason the commission denied such aid. All non-loan aid (including financial aid, funding from the state's Vocational Rehabilitation agency, and school/external scholarships) must be applied before the Lavelle – Brother Kearney Scholarship amount may be determined. Please note that changes to the student's financial profile may significantly alter the Scholarship amount from semester to semester.
Paying for the Scholarship
Each semester, the Fund will pay the needed scholarship dollars directly to the participating colleges' Financial Aid or Bursar's offices. The colleges will then ensure that the funds are used exclusively for the agreed student support purposes. Fees for special programs, off-campus housing that is not included in the student's official bill, and travel-abroad programs above the regular Cost of Attendance are not eligible for Lavelle Fund support.
Should you have questions about the Scholarship Program, please contact:
Kate Morris
Scholarship Program Coordinator (212) 668-9801, ext. 101
(generally on Mondays and Wednesdays)
[email protected]