The Brother James Kearney Scholarship Program for the Blind (formerly, the Lavelle Fund College Scholarship Program) aims to help make quality undergraduate and graduate education affordable for U.S. residents who are legally blind, financially needy, and attending any of 12 selected private colleges in New York State, Northeastern New Jersey, and Southwestern Connecticut. The program is currently authorized to admit new students through June 30, 2024.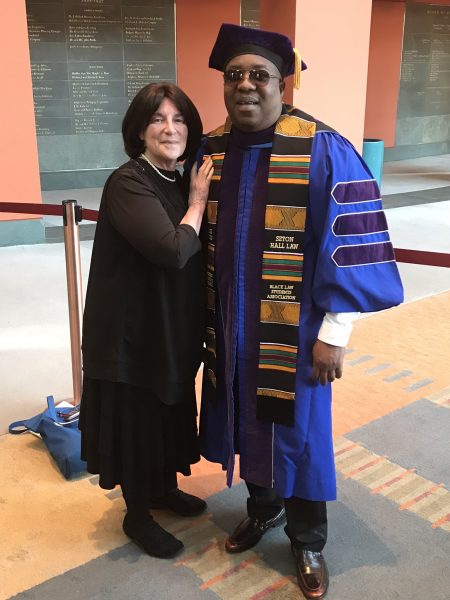 To be eligible for the Brother James Kearney Scholarship Program, a student must be:
A legal resident of the United States.
Either legally blind or so severely visually impaired that a Lavelle-sponsored vision assessment expert confirms that the student would need special support services to succeed in college. Examples of such supports include: adaptive technology, books in alternate formats, help from volunteer readers, and/or orientation and mobility training. Any otherwise qualifying non-legally blind students who nonetheless have significant vision impairments (those more ocular than cognitive in nature) should contact the Lavelle Fund office to schedule a professionally administered functional vision assessment.
Financially needy, as defined by the student's college. Colleges use data from students' FAFSA form to make the financial need calculations outlined below.
Studying at one of 12 participating colleges and universities in New York State the New York City metropolitan area. These institutions are: Canisius College, Dominican College, Fairfield University, Fordham University, Le Moyne College, Manhattanville College, Molloy College, Marist College, Marymount Manhattan College, St. John's University, St. Thomas Aquinas College, and Seton Hall University. At St. John's University, the program is open only to graduate students. At the other institutions, the program is open to both undergraduate and graduate students. Students must be studying full-time and in good standing (not suspended or on probation). (To obtain the relevant contact data for each college, please visit the Participating Colleges & Contacts page.)
After completing the federal FASFA form and their college's own financial aid application form, students should contact their colleges' financial aid offices for more information.
Scholarships are awarded on a last-dollar-of-need basis. Depending on non-Lavelle financial aid that a student receives from other sources and the financial circumstances of each student's family, a Brother James Kearney Scholar may be awarded a maximum of $15,000 per academic year for up to four years (or eight semesters).
To be eligible for Brother James Kearney Scholarship support, students must first seek non-Lavelle support for which they may qualify. Since legally blind students who are registered with their home state commission for the blind usually qualify for some commission aid, the Fund does not honor scholarship vouchers that fail to indicate either: (1) how much the student's home state commission has awarded the student or (2) the reason the commission denied such aid.
Non-Lavelle resources available to financially needy, blind or legally blind students may include:
The college's own student aid funds
Federal Pell Grants
NYS Tuition Assistance Program awards in the case of New York State residents
Aid from the students' home state commissions for the blind. In the case of the New York State Commission for the Blind, for example, maximum annual award amounts have historically been about the same as the cost of a year's tuition at a SUNY college – plus additional support for room and board, when applicable.
Each semester, the Fund pays the needed scholarship dollars directly to the participating colleges. The colleges then ensure that the funds are used exclusively for the agreed student support purposes.
Participating colleges help support the program and their Brother James Kearney Scholars in several ways:
Publicizing the Brother James Kearney Scholarship for the Blind (in college catalogues, web sites, etc.), recruiting eligible students, and identifying incumbent (currently enrolled) students who are eligible to participate. Students may be admitted to the program anytime from now through June 30, 2024. Once admitted, Brother James Kearney Scholars who remain in good academic standing will continue to be eligible for up to four years of Brother James Kearney Scholarship support regardless of the end date of that support.
Ensuring that interested students sign the program's release form.
Counseling Brother James Kearney Scholars about seeking non-Lavelle scholarship aid for which they are eligible and calculating how much the students' families can afford to pay without borrowing.
Determining the students' last-dollar-of-need for Brother James Kearney Scholarship support.
Helping their Brother James Kearney Scholars obtain the campus accommodations, support services, and adaptive equipment that they need to succeed in college. In many cases, needed services will actually come from outside the college – for example, from the students' home state commission for the blind.
Reporting: (1) annually to the Lavelle Fund about the program's overall progress and (2) at stipulated times on students' individual education and employment outcomes.
For its part, the Fund will honor the scholarship aid commitments just outlined, up to certain stated maximum amounts per college. Should the financial need of actual and potential Brother James Kearney Scholars ever exceed this maximum, the colleges should inform the Fund and then be prepared to determine which students receive support by rank-ordering based mainly on degree of financial need.
Should you have questions about the Scholarship Program, please contact:
Kate Morris
Scholarship Program Coordinator (212) 668-9801, ext. 101
(generally on Mondays and Tuesdays)
[email protected]