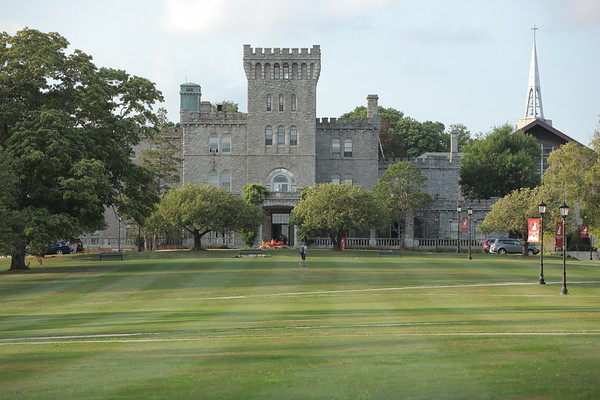 Location: Purchase, New York
Manhattanville College offers a small, suburban campus located along the
Hudson River, about 45 minutes from New York City. Ranked in the top 15% of Most Diverse Colleges in the U.S., the student population participates in small classes centered around collaboration and civic engagement.
Facts and Stats
1,500 undergraduate students
Catholic, Liberal Arts education emphasizing civic engagement

Student Life
65% of undergraduate students live on campus
50+ student clubs and organizations
Athletics: NCAA Division III
Academics
 11:1 student to faculty ratio and 75% of classes have fewer than 20 students
Required First Year Program includes First Year Seminar and First Year Writing courses
Required General Education Program courses based on "INQUIRY"
which consists of four pillars: Investigator, inventor, international citizen,
and interpreter.
Most popular programs: Business, Psychology, Communications, Marketing, Music & Performing Arts
New School of Nursing and Health Sciences
Resources
Academic Services (tutoring, writing assistance)
Center for Student Accommodations
Academic Advising
Mentoring program for underclassmen
Fee-based support programs:
1.

Valiant Learning Support Program

assists college-ready students
in navigating the academic challenges of the college curriculum.
Includes 3 hours of 1:1 academic support with professional
learning specialists
2.

Pathways and Connections

program assists college-ready
students on the Autism Spectrum. Includes individual meetings
with program coordinator, weekly group sessions, peer mentoring,
and social events.
Sister Mary T. Clark, RSCJ Center for Religion and Social Justice
Community service programs
Admissions
Application: Common App
SAT/ACT: Considered but not required
Selectivity: 90% acceptance rate

Manhattanville College Q & A
An interview with Chelsea R., Lavelle-Brother Kearney Scholar and Vanessa L., graduate and Lavelle-Brother Kearney Scholar
Why did you choose Manhattanville?
Vanessa: I chose Manhattanville because I heard they had a really good office of disabilities. That definitely made me feel more comfortable about going there. That was a big element in my college search; it was important to me that I was going to be supported in college. I think a big college would've felt a little overwhelming, so the size of Manhattanville helped me feel comfortable. There was also familiarity with the college since I attended its Pre-College Program.
Chelsea: It's a small enough school that I'm able to be a student with a name and not just a number. I always heard that when you go to college there are 500 students to a class; I didn't want that. At Manhattanville, my professors know who I am.
What is the Manhattanville College population like?
Vanessa: The student body is very diverse, but they also form groups early on which incoming students should be aware of.
Chelsea: Manhattanville students often migrate towards groups, so it's important to find your niche very early when you arrive here and make a broad base of connections. For me, the best relationships happen during your freshman year in classes with other people who share your major since you'll have similar interests. You have to just bite the bullet and put yourself out there. At the same time, the small campus means that everybody knows everybody so its easy to approach people with questions.
How has your classroom experience been at Manhattanville?
Vanessa: All the material I've learned is very up to date. When I graduate, I am going to feel prepared because I'll know everything I need for my profession.
What is something unique about Manhattanville?
Vanessa: I'll brag about their community service department because they have a whole schedule dedicated to great activities that people can take part in to help the community. I did Habitat for Humanity, the Midnight Run, children's hospital visits, and more. That's always a great way to meet new friends outside of your regular group.
What kinds of support services are available at Manhattanville?
Vanessa: I have always had a good experience with the Office of Disability Services. They handle a lot of students and manage to still do a great job at handling such a large caseload. They were always able to help me get around whatever challenges I had to face which ultimately made the difference in me passing a class versus me getting an A. I remember taking my first-year seminar where I had to watch movies in another language. Disability Services came up with a really creative solution to hire someone from the class to watch the movie with me at a different time and read the subtitles. I actually ended up getting an A in the class. Not only that, but the person who assisted me stayed working there even after I'd finished the class. Everyone won in that situation.
In addition, Manhattanville offers an upperclassmen mentor program for first-year students which helped in ways that the Office of Disabilities couldn't. I was fortunate enough to have a really fantastic mentor who helped me learn to manage my time better, gave me advice on which classes to take, and existed as someone to talk to. She was helpful in keeping me motivated and giving me advice when I needed help. The mentorship program and Disability Services were two very important variables that helped me have a great first year at Manhattanville.
Chelsea: The Office of Disability Services is very helpful, and I've never had any complaints; I love them. Everyone there gives 150% and they're willing to stick their neck out for you and also help you advocate for yourself.
The Center for Student Involvement and Leadership is amazing, and they offer lots of campus activities which are accommodating. If anything's ever inaccessible, I make sure to explain the situation and advocate for myself and others in the blind community. For example, our school has a game zone and I wanted to join an UNO tournament but there weren't Braille UNO cards. I talked to the staff in Student Involvement and now we have Braille UNO. I helped to do the same thing for Bingo nights. It's those little acts of support from the Manhattanville staff that go such a far way.
To Learn More:
2900 Purchase Street
Purchase, NY 10577
Contacts
Alyssa Campo-Carman
Director of Disability Services
Library Room 135
914-323-7129
Elizabeth Valdez
Director of Financial Aid Services
914-323-1255
Giovanni Solis
Student Financial Services
914-323-5266