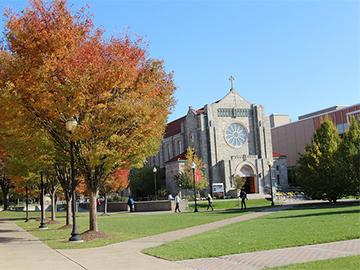 Location: Buffalo, New York
Canisius College emphasizes a holistic approach to each student. Students learn the lifelong skills of critical thinking, literacy of the world, and an understanding of ethics and justice. Students are encouraged to explore multiple interest areas and pursue pathways that inspire and motivate them. Expansiveness, adaptability, and depth are hallmarks of the Canisius College education.
Facts and Stats
2,200 undergraduate students
Small, suburban campus
Jesuit Catholic college
Student Life
40% of all students live on campus
90+ student clubs and organizations
Athletics: NCAA Division I
campus is connected by underground tunnels for easy travel during snow season
Academics
Average class size 10-30
Most popular programs: Business/Marketing, Finance, Research and Experimental Psychology, Zoology and Entomology
Resources
Griff Center for Student Success – Accommodations Support
Campus Ministry
African American, Latinx American, Asian American and Native American (ALANA) Student Center
Urban Leadership Community
Canisius' Opportunity Programs for Education (COPE)
Immersion East Side
New Buffalo institute
Admissions
Application: Common App accepted
SAT/ACT: considered but not required
Selectivity: 83% acceptance rate
Canisius College Q & A
An interview with Lindsey, Canisius Graduate Student
What makes Canisius College special?
We have a diverse student population and close ties to Buffalo's business sector and social/cultural scene. Our students are able to pursue many opportunities beyond the classroom, including internships. Our classes are very small, most are fewer than 30 students, so you have the opportunity to really get to know your classmates and professors.
What is campus life like?
We have a ton of clubs and activities, and students are really encouraged to join. We also have an active Campus Ministry, which, in the Jesuit tradition, does a great deal of outreach into the community.  The Ministry, like all of our activities are inclusive and welcome to all.
What skills do students need to succeed at Canisius College?
I think students do best when they are eager to learn, and willing to find and use the resources on campus, which we have a lot of. It's really all about the experience the student makes for themselves. You could spend your time in the dorm, or you can connect with events and activities.
To Learn More:
2001 Main Street
Buffalo, NY 14208
Contacts
Sierra Bonerb
Associate Director Support Services
Griff Center
716-888-2476
Mary Koehneke
Assistant Director, Financial Aid
716-888-2300