Vision Rehabilitation & Resources
Vision Rehabilitation & Low Vision Services
These include an array of professional services and adaptive devices designed to prepare people who are blind or visually impaired to lead independent, productive lives. Examples include:
Training in skills of daily living (e.g., eating, cooking, personal hygiene), safe mobility in the home and community, and adaptive communications skills (reading and writing Braille and accessing Braille, large-print, and recorded books).
Learning to use adaptive computer technology and, as needed, being fitted with low-vision optical devices.
Preparing for and obtaining appropriate paid work.
Information & Referral Services
Often internet- or phone-based, these services inform blind and visually impaired people and their families about: eye diseases and disorders; available medical and vision rehabilitation care and technology; and contact data for local care providers. They also often provide blind consumers and their families with opportunities to network with vision experts and with people facing similar challenges.
Case Study Highlights
Progress & outcomes from the field of vision rehabilitation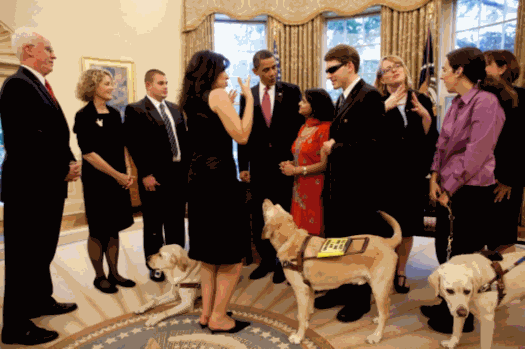 Deafblind Citizens in Action
In 2016, the Fund approved a two-year grant of $76,000 to Deafblind Citizens in Action (DBCA), a small nonprofit organization dedicated to advancing access to education, technology, and employment for all Americans who are deaf-blind. The grant support would allow two successive six-person cadres of young adults who are deafblind to participate in DBCA's program, Deafblind Young Adults in Action: Participating in the Policy-making Process (DBYAA).
VISIONS Services for the Blind & Visually Impaired
In 2013, the Fund approved a grant of $500,000 to support VISIONS, with its partner Helen Keller Services for the Blind, in launching an employer-centered and -guided job training and placement program for adults who are legally blind and live in New York City or Long Island. The program was to cultivate sustainable relationships with selected NYC and Long Island employers who hire entry-level workers.