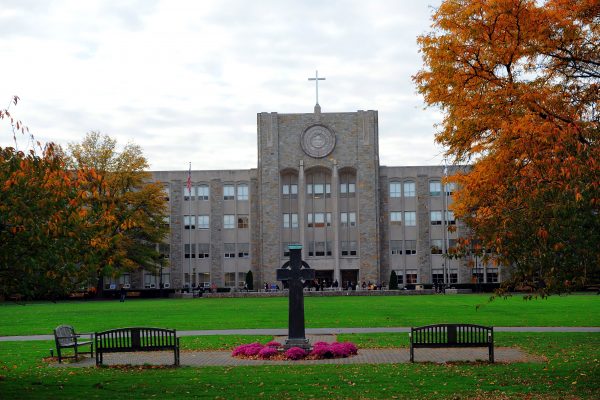 Locations:  Jamaica, Queens County, New York and Staten Island , NY
Legally blind students enrolled in graduate programs at St. John's University are eligible to apply for the Lavelle – Brother Kearney Scholarship. St. John's boasts dozens of graduate degree programs, and has locations in Hauppage (Long Island), Manhattan, Queens, and Staten Island.
Facts and Stats
At St. John's, students will experience the best of both worlds: a traditional, suburban campus experience brimming with school pride paired with easy access to the urban energy of Manhattan. As one of the most diverse institutions in the nation, St. John's offers an array of involvement opportunities for every type of student, resulting in an outgoing and tight-knit community.
17,000 undergraduate students
4,500 graduate students
Catholic and Vincentian University
Student Life
70% of undergraduate students are commuters
180 student clubs and organizations
Athletics: NCAA Division I
Academics
Schools
Services
Mental Health Counseling
Pharmacy & Health Sciences
and MORE
Resources
Student Support Services
Honors Program
Academic Success Center
Center for Psychological Services
GEAR UP Program
Admissions
Application: Free online St. John's application (not the Common App)
Standardized tests (e.g., LSAT, GRE) may be required, consult the program guide
Selectivity: varies by program
St. John's University – Graduate Program
Q & A
An interview with John G., Law student and Lavelle – Brother Kearney Scholar
What is the student population like?
I think St. John's is a great place to be, especially if you're outgoing. You might have to work a little bit extra to connect if you're more reserved, but everyone's pretty outgoing and friendly. The student population is very diverse; I definitely feel like I'm in Queens when I'm on campus. It's not like it's packed and feels like Manhattan; it's in the suburbs of Queens. It has that feel of community and friendliness.
What is campus life like?
The school does a lot to help engage the community and build camaraderie. There's a lot offered in terms of extracurriculars. I didn't get involved with everything, but it was always available. I never felt like I was forced to do any of those things. I always feel like my friends and I have the support of the school, but we've been able to learn how to be adults. When I helped build the Sports Management Club, the school didn't make decisions for us. They offered some guidance and ideas, but they mainly gave us the money and freedom to build it. They helped us in the sense that we could explore and figure things out on our own.
What was your experience like as a student with vision impairment?
I had to take the initiative. It was learn-on-my-own, but I felt like they (disability services) were always there to fall back on if I needed them. I moved off of campus right away, but I learned how to live like an adult and how to treat school as my job. They know people are moving off campus and the school respects that freedom, while saying "If something goes terribly wrong, let us know".
If I ever had an issue, I always felt comfortable going to Disability Services. I have friends with varying levels of visual impairments and none of us had any complaints. I think it was representative of the real world, but at the same time, Disability Services was on my side and they made sure that my educational experience was a little bit better than the real world.  For example, I sent the Law School a very broad question concerning the physical changes and new instructions regarding the COVID-19 situation. I didn't expect for them to tell me every single change with detailed descriptions – that would've been a crazy ask. Yet, that's exactly what they gave me. That isn't out of character in the graduate or undergraduate program; they're fantastic!
I like to be put on the same field and have things be as similar as possible. I just want to feel like there's nothing different. I want to be able to learn just as much as everyone else in the classroom and I felt that St. John's was definitely able to do that.
Any suggestions for applicants?
The more independent you are, the better your St. John's experience will be. Incoming students should be willing to embrace their time as a Johnny.
To Learn More:
8000 Utopia Parkway
Jamaica, NY 11439
Contacts
Jason Luchs, M.A.
Associate Director, Disability Services
718-990-6867
718-990-2609 (F)
Lee Elie
Financial Aid Technical Assistant, Office of Student Financial Services
718-990-5322