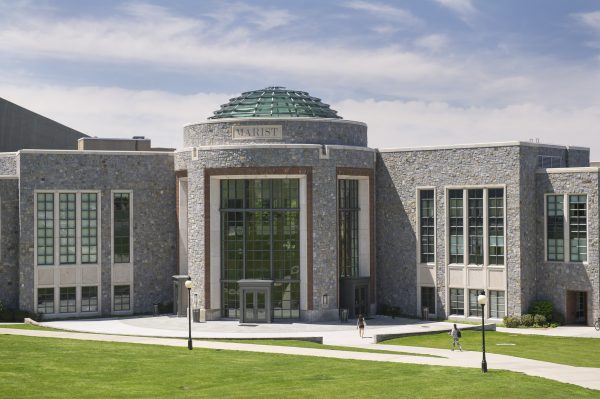 Location: Poughkeepsie, Dutchess County, New York
Marist College is a private, mid-sized, liberal arts college, overlooking the Hudson River. Located in Poughkeepsie, NY, Marist is about 2 hours by train from NYC.  The core values of excellence in education, sense of community, and commitment to service are embedded into their educational programs and campus life.
Facts and Stats
5,000 undergraduate students
Suburban campus
Catholic College
Student Life
90% of undergraduate students live on campus
80+ clubs and student organizations
Athletics: NCAA Division I
Local city bus in Poughkeepsie is free for college students
Academics
16:1 student to faculty ratio
Most popular programs: Business, Communications, Psychology, Fashion and Apparel Merchandising, Computer Science, Paralegal

Resources
Writing Center
Center for Civic Engagement
Marist Mindset Institute
Center for Social Media
Raymond A. Rich Institute for Leadership Development
Admissions
Application: Common App
SAT/ACT: Considered but not required
Selectivity: 46% acceptance rate
 Marist College Q & A
An interview with Austen B., Lavelle – Brother Kearney Scholar
Why did you choose Marist College?
Marist allowed me easy access to academics and social experiences that I might not be able to get at larger schools. The classroom sizes I've experienced here at Marist are small enough with a cap of  around 30-40 students, which allows a personal connection with professors and classmates. A lot of the instructors I've had here are very open and willing to help you succeed in the classroom, as well as outside of the classroom.
What is campus life like at Marist?
It's an open campus and the students are very friendly. People that you may have never interacted with in class will come up to you to say hello and introduce themselves. It's easy to get to meet new people and make friends; it's a tight-knit community at Marist.
Most students are involved in activities outside of class. It seems like the club fair gets bigger every year and the school really tries to get students involved as much as they can. I try to stay involved with different clubs as much as I can around my class schedule. Once a month, the school offers half-price Broadway tickets, so I've taken advantage of that and it's really nice. It's a full day in New York City along with the show. In the winter, they'll offer ski trips to students in upstate New York. Every weekend, they show recent movies on campus. There's lots of things going on.
How has your experience been at Marist as someone with a visual impairment?
I work with the accommodations office when I need them. I do keep in touch with them every semester and try to keep it on a schedule where I meet with my advisor regularly. The accommodations office tries to tie their services to what your needs are to help you succeed in classes on an academic level. They're hands on if you need them to be. When I need something, I reach out to specific people in the office depending on what I need. They know each student individually and they'll get you what you need.
They also offer a mentorship program where you're assigned a mentor that helps give you guidance on academics, socializing, clubs, getting involved, or anything. My mentor is really helpful; I meet with him twice a week throughout the semester. When I first started at Marist, my advisor helped pair me with my mentor because she believed he'd be a good fit for me. I met him for the first time during my freshman year and since then I've been working with him.
To Learn More:
3399 North Road
Poughkeepsie, NY 12601
Primary Contact
Deborah Reeves-Duncan
Assistant Director, Special Services
845-575-3274
Additional Contact
Mary Lou Kutchma
Associate Director
Student Financial Services
845-575-3230